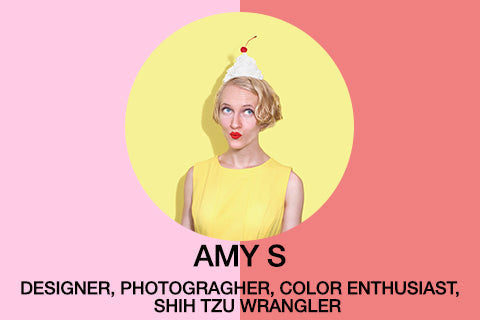 Amy S
What Makes YOU Feel Powerful? 
Empowering others through my work! I can't think of anything more powerful than someone telling me my work has positively impacted them.
Favorite way to break a sweat.
Dancing! Whether that's in between photo shoots, or with my pups, dancing is always my favorite way to break a sweat.
Favorite instagram account to follow?
It's so hard to pick just one! I always love

@annaroslily

because she's so sweet and has the best sense of humor!
Your go-to healthy snack.
Oddly, I just love eating avocado with a spoon. It keeps me full for a while and it's so good!
Your favorite comfort food.
You can never go wrong with a big dish of chicken paprikás! Or LOTS of Ben & Jerry's dairy free ice cream. Or brownies. I have a lot, haha.
Any cool apps you recommend?
A Color Story

is always fun for adding pops of color to your images on-the-go.
What are your gym bag essentials?
ALL the water. I'm a water fiend.
Your go-to mood enhancing thing or activity.
Playing fetch with my pups—they always brighten my day.
What's your favorite Sports Bra style and why?
I love

The Flamingo

for its gorgeous simplicity and color scheme!
Favorite day of the week?
Friday, of course!
Your favorite city, and quick tips for traveling to that city.
Budapest, Hungary

. My best tip is to rent a scooter and just roam! It's such an affordable trip and a gorgeous city to explore.
Racer back or Open back tank tops?
A piece of interesting news you read recently.
Elon Musk's idea for international rocket travel. I wouldn't mind grabbing brunch in Hong Kong and being home in time to play with my pups!