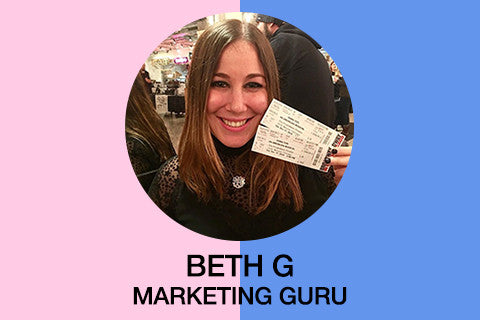 Beth G
What Makes YOU Feel Powerful? 
Having my voice be heard. I am a strong, independent, smart, talented woman. I have great ideas. Sitting back and letting others be proactive isn't my style. I feel the most powerful when I'm able to express myself!
Do you sing in the shower?
LOUDLY!
Favorite quote from a movie.
"I wish we could all get along like we used to in middle school. I wish I could bake a cake filled with rainbows and smiles and everyone would eat and be happy." -

MEAN GIRLS
Favorite way to break a sweat?
EQUINOX

- COMMIT TO SOMETHING.
Your favorite city, and why it is so special to you?
NEW YORK CITY

- center of the universe. Nothing else like it!
What advice would you give to your 15 year old self?
Life isn't fair, and you're going to have to grow up a lot faster than some of your peers, but you'll be better off for it.
Coffee or Tea?
Iced coffee with a splash of almond milk.
Favorite meal of the day?
Moscow Mule!
What is the first thing you do when you get home from a trip?
Unpack, shower, edit photos and post an

Instagram

(in that order)