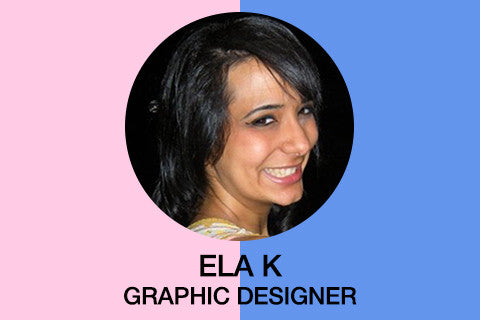 Ela K
What Makes YOU Feel Powerful?
Speaking my mind and thinking for myself. I try not to let TV or media tell me how to think, but do research and come up with my own conclusions. I try not to let things dwell for too long or keep me down. In my life, I am trying to not just follow the crowd but create my own path, learn new things and hopefully become a better person everyday. 
To me being powerful as an individual also means being able to adapt to whatever life throws at me. Life isn't easy, but I try to keep learning, taking on challenges, adapting, and finding purpose.
Wine or Cocktail?
Cocktail – Vodka only please!
Your go-to healthy snack?
Homemade muffins – with coffee, peanut butter, yogurt and wheatgerm.
Things you wish you had known when you were in your early 20s?
Days go by slow – years go by fast. Plan long term and short term goals.
What motivates you to go to a workout you have been dreading?
To be able to keep fitting in my clothes – I don't like buying new clothes, that is what Christmas is for. Getting free clothes from other people.
Looking back what would you have done differently as a teenager?
Should have broken up with my ex sooner. Also, not eating junk food.
When you were little, what did you want to become?
Video game designer.
Favorite ice cream flavor.
Which house would you belong to in the Game of Thrones?
How do you take your coffee?
Lots of milk, with maple syrup and coconut oil. Try it.  ; )
What's your morning routine?
Coffee, 1 egg and bacon, cardio, weights, then I take my vitamins.
Lake or ocean?
Ocean, you float better.
Favorite lipstick?
I make my own –
beet powder, beeswax, coconut oil. Here is my recipe for pink/red lipstick. All natural! No Chemicals! Lipstick you can eat! Make a very small amount. A little will last a long time. : )
Ingredients:
Steps:
Place all ingredients in a small glass bowl

Fill a small pot with water (about 2-3 inch in height). Place on a stove, and get that water boiling

Place your glass bowl in that small pot. Sometimes the bowl will float, but in some cases you might have to hold it with steel tongs on the water surface (so that it gets the heat from the boiling water).

Wait until all of the ingredients have melted together, mix with small spoon or chop sticks.

Mix FAST! The beeswax will harden fast once removed from heat.

Pour your lipstick into a small container (or use an old makeup container).

Put that in the fridge, and let it get cold.

Take it out in a few hours and wear.

Once out of the fridge, the beeswax should keep the lipstick solid even at room temp

Try it on, if the color is not exactly what you want, you can always throw it back on the stove, add more dye and melt it again!