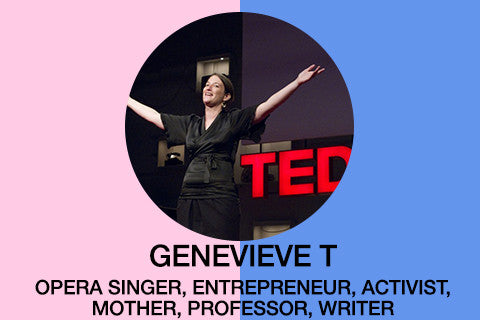 Genevieve T
What Makes YOU Feel Powerful? 
Those days when everything I have worked for suddenly comes into sync with my home and family life, and I think "this is a perfect moment."
Singing Opera.
High heels or ballet flats?
What advice would you give to your 15 year old self?
You don't look like a muppet. Ok, you DO. But a CUTE muppet.
A book you have read more than 3 times.
Favorite way to break a sweat.
Not realizing I am exercising!
Your go-to healthy snack.
Avocado
Your favorite comfort food.
Pizza
Your favorite city, and quick tips for traveling to that city.
What is the first thing you do when you get home from a trip?
Take off my heels.
An inspiring TED talk you loved.
Who are your favorite women heroes?
A piece of interesting news you read recently.
Anything about Trump is always INTERESTING and makes me want to cry too.
Anything I remember to wear.
Favorite quote from a movie.
They've gone to plaid! That is my normal speed. (Spaceballs).