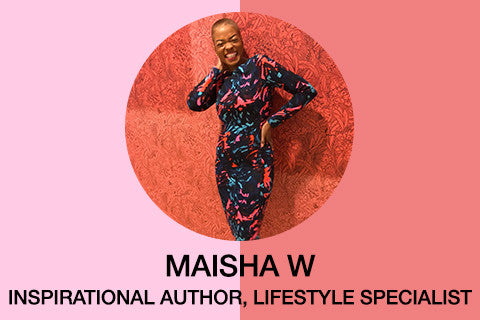 Maisha W
What Makes YOU Feel Powerful? 
My personal story gives me POW-HER! We often underestimate the power of our story! To embrace our story is truly a blessing to our spirit and the universe. When people see me, they have no idea of my story. I was bullied for many years because I didn't look like my peers, but God uses our entire story to teach the lessons He has for us along our journey from faith to sight. When I look back over my life, I know I had to go through this journey to make me who I am today. I am humble, resilient, positive, loving, vibrant, and God-fearing!
(Note by Team POWWFUL: 
Lifestyle Specialist and Inspirational Author, Maisha Wynn, gives credence to the mantra "a changed mind is a made-up mind." She heads Live To Wynn, a company that provides aspirational guidance to individuals who desire to live more abundantly. As a former size 20 who now maintains a size 4 through healthy eating and doing Pilates, Wynn knows firsthand how difficult and rewarding it can be to transform your life. For more information about Wynn, visit

www.livetowynn.com

.)
The sun! It is truly a natural healer.
A book you have read more than 3 times.
The Holy Bible! I find my power and strength in reading God's word daily!
High heels or ballet flats?
High Heels! The higher the better! POW!
Favorite way to break a sweat.
I live for Pilates. I love how my trainer,

Tsedal Ashby

, challenges my body and mind in every session.
Your go-to healthy snack.
Green protein smoothie with coconut milk, cinnamon and fresh fruit.
Your favorite comfort food.
Thai food. I love flavors and textures.
What advice would you give to your 15 year old self?
Nurture your relationships by practicing gratitude!
An inspiring TED talk you loved.
Who are your favorite women heroes?
My number one hero is my beloved mother. I would not be the resilient and radiant woman I am today, if it weren't for her. Other women who've had a positive impact on my existence are

Oprah Winfrey

, First Lady

Michelle Obama

, and

Mother Teresa

.
A piece of interesting news you read recently.
I love giving greeting cards to my clients, family and friends. I was thrilled to read Hallmark Cards recently won a Daytime Emmy Award for "

Wonder Women

." It's a docu-series that travels the globe in search of ordinary women making an impact in extraordinary ways in India, Japan, Brazil, Mexico, Africa, and the United States. Now this is a sign of true POW-HER!
Your favorite city, and quick tips for traveling to that city.
I love traveling to

Los Angeles

! I'm all about saving a dollar. With that being said, book your airline ticket at least 45 days before your trip. If you are unable to book in advance, go to this amazing website which can track the pricing daily,

www.google.com/flights

.
What is the first thing you do when you get home from a trip?
I take a hot shower. Cleanliness is next to Godliness for me.
I'm not really into wearing lipstick unless I have a TV segment or speaking engagement. However, I like to rock pink lip gloss.
I love to create my own fragrance. However, my favorite notes are grapefruit, pimento berries, woody amber, and vanilla.
Favorite quote from a movie.
"Your actions will always follow your beliefs!" -

Facing The Giants