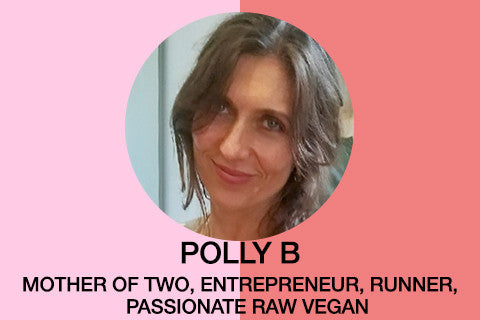 Polly B
What Makes YOU Feel Powerful? 
To be in a position in life that I can whole heartedly empower others...Currently I do a personal challenge every morning of running 4miles and planking 4mins and it sure helps to have a "POWWFUL" jog bra to do it in. On a daily basis I eat "RAW" vegan diet that gives me energy to share with others. I typically choose what I consume from my business Chicago RAW Food. And last but not least having the honor to be the mother to Zachary Gaza (25) and Margo Gaza (23). May they stand in there own power...I love you both!
Favorite way to break a sweat.
Planking!
Favorite instagram account to follow?
Your go-to healthy snack.
Coconut Chia Pudding with Spirulina Tabs!
Your favorite comfort food.
Any cool apps you recommend?
Spotify :)
Your go-to mood enhancing thing or activity.