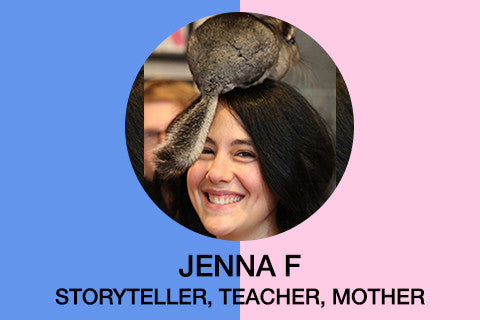 Jenna F
What Makes YOU Feel Powerful? 
I feel powerful when my opinions are heard & considered. Moreover, I feel a rush of power (& strength) when my ideas and input contribute to the creation of something meaningful (i.e. marriage, kids, short film, art gallery).
High heels or ballet flats?
My dream footwear: superhero shoes that transform from flats to heels with the click of a removable stiletto!
Favorite way to break a sweat.
Exploring the city while listening to music. Sometimes it's a run along the lakefront. Ideally, it's a chic romp in the city. Being a flâneur is the ultimate goal. And while being a connoisseur of the street doesn't burn calories, it does exercise the mind and soul!
What advice would you give to your 15 year old self?
When you're a teenager, you really are hot stuff. Don't be afraid of or intimidated by other people. Ask questions. Approach people and make friends with everyone.
Favorite quote from a movie.
"More isn't always better. Sometimes it's just more." - from

Sabrina