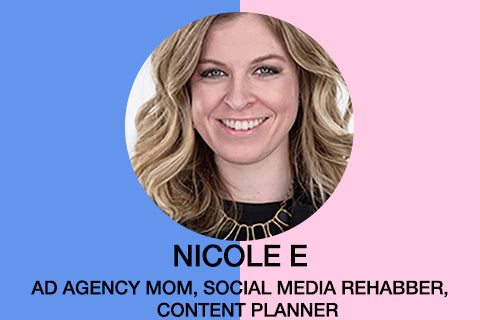 Nicole E
What Makes YOU Feel Powerful? 
When I leave the office in the 5pm hour after a full day of meetings and ideas knowing I get to go home to my husband, daughter and the life we have created!
Let's talk about DREAMS! What do YOU want to be when you grow up?
I'm proud to say that I've pursued most of my career dreams already and plan on continuing to pursue them, even if I fail. I started, grew and sold a blog. I've attempted to have my own content creation agency and failed. For the past four years I've been leading social media at a large ad agency in Chicago - definitely a dream job for me. In my next career "act," I want to take these experiences and blend them together to empower others. Side note: I don't believe you have to quit your day job to live out your career dreams!
What song gets you through the last mile?
Juicy by Notorious B.I.G.
You'll never find me without my _______.
Phone. I'm shamelessly addicted to social media and reading. I'm always consuming digital content (but TV, not so much). When I'm not consuming, I'm writing or creating it for my Facebook Community, website or Instagram. Content inspires the work I do, my creative point of view and the life I have created.
What advice would you give your 21-year-old self?
Don't do what you THINK is good and right in your career. Do what FEELS good and right instead, even if it's the curvy path. It will make you stronger, more experienced and you'll have lots of great stories too!
A teacher or mentor that made an impact on your life:
My parents have a crazy awesome love story and business story. They've always inspired me. I am also good friends with my Guerilla Marketing Entrepreneurship professor from college. His name is Mark Lacker. I always consult him on the big things.
Advice for keeping up with old friends?
Call them on a whim. Tag or text them to let them know you're thinking of them. Send them articles, audible books or YouTube videos that you think they might like. Make traditions and keep them.
Who are your favorite female heroes?
Reese Witherspoon, Oprah, Sophia Amoruso
A new trend you want to try: (tech, food, style, etc.)
Overalls are very tempting. And for my daughter: toddler-sized jumpsuits.