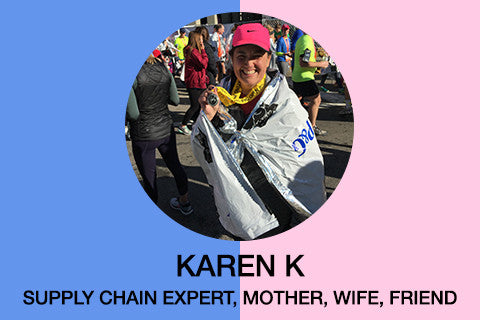 Karen K
What Makes YOU Feel Powerful? 
The ability to make changes in myself and the world to make it a better place for my daughters.
What advice would you give to your 15 year old self?
The concept of what is popular won't matter when you are an adult. Trust your parents.
High heels or ballet flats?
Ballet flats... I am always trying to get steps in!
A book you have read more than 3 times.
Harry Potter

- once for fun and once with each daughter.
Favorite way to break a sweat.
Running - but only after it is over!!!
Your go-to healthy snack.
Plantain Chips
Your favorite comfort food.
Sushi
Your favorite city, and quick tips for traveling to that city.
New York City

- my home town. Eat pizza and bagels. Go to the 9/11 site. It is incredibly moving. See a play. Go to one of the beaches.
What is the first thing you do when you get home from a trip?
Hug my family and unpack!
Who are your favorite women heroes?
A piece of interesting news you read recently.
Sadly the news is depressing for me. I avoid much of it. I like the sappy feel good stories.
Favorite quote from a movie.
"There is no crying in baseball" - A league of their own.
"I'm just a girl standing in front of a boy asking him to love me" - Notting Hill