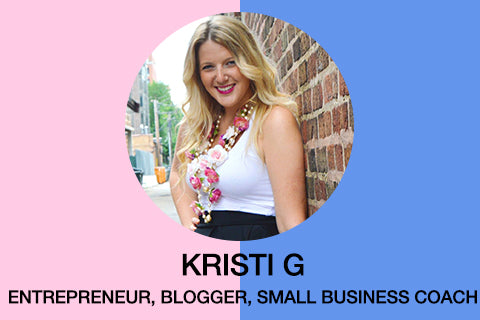 Kristi G
What Makes YOU Feel Powerful? 
Bringing my life to a position of intentionality. I am very goal-driven; much of my power and strength can be attributed to practicing manifestation & creating the world I want to live in.
Favorite way to break a sweat.
Taking a jog down the lake path!
Favorite instagram account to follow?
Your go-to healthy snack.
Your favorite comfort food.
Every rainy day needs popcorn!
Any cool apps you recommend?
Planoly

helps you plan your Instagram posts
What are your gym bag essentials?
Confession -- I HATE bags! I usually carry everything in my hands: Water, headphones, phone, keys!
Your go-to mood enhancing thing or activity.
Taking a walk on the lake with my hubby :)
What's your favorite Sports Bra style and why?
The color combo of the

LOL

is so me!
Favorite day of the week?
Sunday (Brunch-day!)
Your favorite city, and quick tips for traveling to that city.
Rome, Italy

. Find a cafe and sit there All. Day.
Racer back or Open back tank tops?