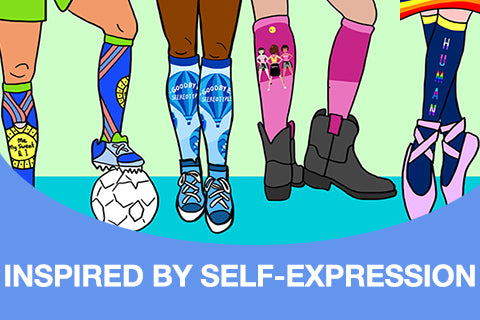 Power Socks
We put a lot of energy and effort into designing POWER SOCKS – our knee high 15-20mmHg graduated compression socks. We sourced the highest quality and softest micro-nylon yarns, and blended it with just the right amount of spandex, to make your legs and feet feel great all day long. We also want our designs to convey how

we feel

and

think

, as a small women owned women run company. We used the socks as a

canvas

to express our views with

frankness

and

honesty

.
Our guiding motto when creating this new product line was:

Care about yourself & Care about each other

. Taking care of the one of the hardest working parts of our body is so important. Our legs and feet are often

woefully ignored

in our daily self-care regime. Hours of sitting at a desk, running, long flights, standing for extending periods of time - all can cause tired, achy and swollen legs and feet and increase the risk of issues like spider veins, varicose veins and DVT to name a few. Avoid the discomfort & risks by wearing graduated compression socks and

improve

your overall leg and vein health. They are quite simply

good for you

!
Click

HERE

to shop the collection.