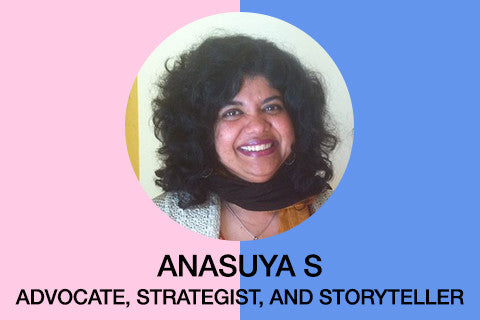 Anasuya S
What Makes YOU Feel Powerful? 
The solidarity, affirmation and strength of collective power. When I find myself supporting many people to make change happen, there is no greater joy. Growing power is about sharing power.
Long walks by the bay. Hikes in the redwoods. Poetry. Music. Reading. Pottery. And always - political comedy shows!
What's your favorite color?
What's your go to healthy snack?
Carrots
Best compliment you ever received.
You inspire me.
High heels or ballet flats?
Neither. Vibrams!
An inspiring TED talk you loved.
When you were little, what did you want to become?
An astrophysicist (

Carl Sagan

and Star Trek, you're to blame!)
What motivates you to go workout?
Getting my body to talk to - and calm - my mind, which sometimes works to a different beat. Workout then (sometimes!) becomes a form of meditation.
What's your favorite comfort food?
Anything spicy!
A piece of interesting news you read recently.
Space. Science. What's not to love? (I haven't lost my fascination with either).