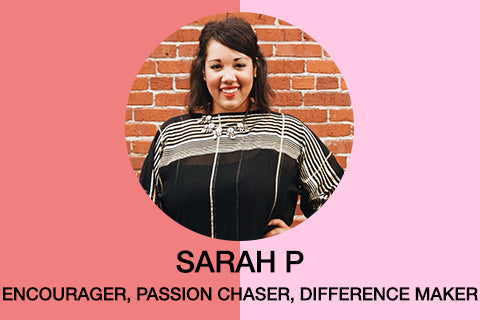 Sarah P
What Makes YOU Feel Powerful? 
Empowering other women to live out their dreams and passions.
Let's talk about DREAMS! What do YOU want to be when you grow up?
The best boss babe possible - which begins with taking care of myself! 
Your go-to healthy snack:
What song gets you through the last mile?
You'll never find me without my _______.
What advice would you give to your 21-year-old self?
Don't let anyone put you in a box. Shoot for the stars sister and enjoy the ride!
Favorite way to break a sweat:
Hiking at Radnor Lake or spin class
A Ted Talk that inspired you to think differently:
I'm OBSESSED with Ted Talks!!

Freedom from Self-Doubt

by B.J. Davis was a game changer! We get in our way by having a negative mindset. No matter your past or the mistakes you make along the way. Allow them to shape you and become part of your story, not hold you back! 
Advice for keeping up with old friends:
Be intentional. Everyone is busy, but when they pop into your head - text them and let them know. Then actually set a date to catch up , even if it's for 10 minutes. Let the people around you know how much you care!
Who are your favorite female heroes?
My mom, all the women who have gone before me to break the glass ceiling, and Oprah (duh!)
A new trend you want to try: (tech, style, food, etc.)
Aerial Silk Fitness Class