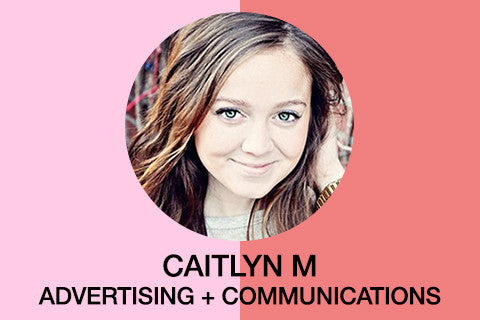 Caitlyn M
What Makes YOU Feel Powerful? 
I feel powerful when I make myself step outside of my comfort zone. I lean into what scares me to confront it. Coming out on the other side (usually unscathed) reminds me that I'm stronger than I think I am.
Your go-to mood enhancing thing or activity.
Favorite meal of the day?
Does coffee count?
Your favorite city, and quick tips for traveling to that city.
Denver

and any town in the Rockies — While not the fanciest airline,

Frontier

's hub is in Denver and offers dirt cheap round trip flights. Bring only a backpack and you'll pay no additional fees. Public transit and ubers will get you pretty much anywhere you need to go once you land.
What is the first thing you do when you get home from a trip?
Put a load of laundry in and order take out.
A piece of interesting news you read recently.
Favorite instagram account to follow?
@nvml

— beautiful photography of mostly the outdoors.
Your go-to healthy snack.
Orange bell peppers or almonds.
Any cool apps you recommend?
Splitwise

— It's a live tab between you and whoever you want to track expenses with. You can even change the currency while traveling.
What are your gym bag essentials?
Water, lip balm, and headphones.
Favorite day of the week?
Friday!