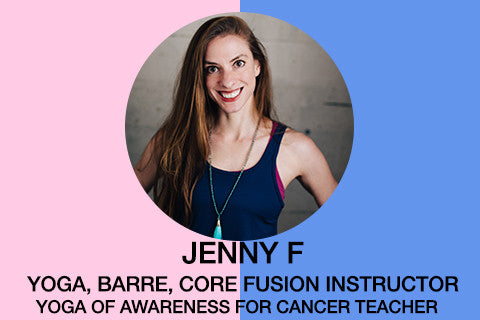 Jenny F
What Makes YOU Feel Powerful? 
I feel powerful when I reclaim a sense of control in a situation that I previously thought was beyond my control. Reminding myself that I do have a sense of personal agency is empowering. On top of that, as much as I love lazy days, being productive makes me feel powerful. There is nothing more satisfying than getting shit done!! When it comes to personal interactions, I always feel more connected with people once I've made them laugh.
Favorite instagram account to follow?
@delta_yoga_

for peace-inducing Alpine vistas, a couple of yoga selfies, and a dog!
Your go-to healthy snack.
Sliced avocado on multi-grain crackers: my attempt to break my cheese habit.
Any cool apps you recommend?
I use my Dictionary app ALL. THE. TIME.
What are your gym bag essentials?
Bonne Bell Strawberry Lip Smackers, mouthwash, sunscreen, tissues, sunglasses, barre socks.
Your go-to mood enhancing thing or activity.
Getting perspective: realizing my life is pretty great and my problems aren't real problems. And yoga!
Favorite meal of the day?
Dinner! It's usually the only meal that isn't rushed.
Favorite day of the week?
Friday afternoons, when I can look back and take stock of the week behind me.
Your favorite city, and quick tips for traveling to that city.
I lived in

New Orleans

for ten years, and it will always feel like home. Visit the

Ogden Museum of Southern Art

; take a picnic to the

Besthoff Sculpture Garden

at NOMA; take a class at

Life Yoga

; grab dinner at

Shaya

(make your reservations NOW!); order a Bloody Mary in a go-cup at

801 Royal

and stroll through the

French Quarter

; go to

Willa Jean

for brunch and order the Chocolate Chip Cookies. They serve it with a side of raw cookie dough on a beater. It might kill you, but you'll die happy!
What is the first thing you do when you get home from a trip?
Make sure my dog is still alive and well. Following that, I'm all or nothing when it comes to unpacking: I either do it immediately, or my suitcase sits out for a week!
A piece of interesting news you read recently.
I'm reading a memoir called

The Foundling

, about a man who discovers he was kidnapped as an infant, and now questions his whole identity. It's fascinating!