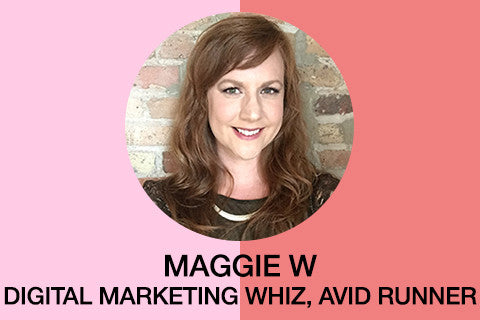 Maggie W
What Makes YOU Feel Powerful? 
Challenging myself physically and achieving new feats, whether it's lifting a heavier weight, running a new distance or speed record, nailing a new yoga pose, etc.
High heels or ballet flats?
Wedge heels! Practical and fun.
My cat Olive. Or anyone's cat. Or cat videos.
A book you have read more than 3 times.
What advice would you give to your 15 year old self?
Own the fact that you love math, and find a mentor who can tell you all about careers in math.
Favorite quote from a movie.
Right now? "May I please remind you it does not say R.S.V.P. on the Statue of Liberty!" -

Clueless
Favorite way to break a sweat.
Running, dance, lifting weights, pilates, yoga ... almost anything!
Your go-to healthy snack.
Trail mix or mixed nuts
Your favorite comfort food.
Tacos
An inspiring TED talk you loved.
Who are your favorite women heroes?
What is the first thing you do when you get home from a trip?
Feed my cat
A piece of interesting news you read recently.
One that is bright red, glossy, and stays put. Still looking for the right one!