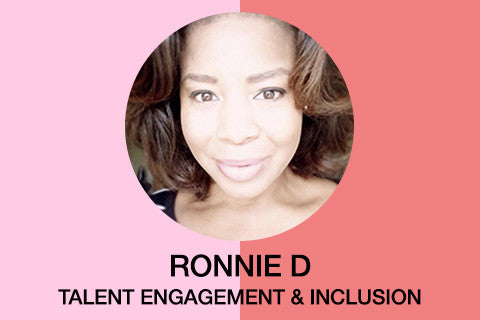 Ronnie D
What Makes YOU Feel Powerful? 
I feel most powerful when I see the spark ignite in OTHERS when they recognize THEIR power. It is a truly amazing moment. It is one of the drivers that made me an effective people manager and leader, and is also one of the reasons I decided to become certified as a Career and Executive Leadership Coach.
An inspiring TED talk you loved.
When I hear an inspirational story about someone either living their best life or overcoming an obstacle I'm immediately inspired, motivated and happy. It gives me hope and perspective on whatever situation may have me in a rut or frustrated.
A book you have read more than 3 times.
The War of Art

by Steven Pressfield. Amazing, amazing book. I believe I've read it 4 times now.
What advice would you give to your 15 year old self?
Don't worry about whomever you think is prettier, cooler or smarter. Trust me, it all evens out by your 10 or 15 year reunion.
High heels or ballet flats?
I'm more of a flat riding boot type of woman! High heels are amazing but not super practical for me at the moment.
Favorite way to break a sweat.
Dancing. Dancing. Dancing. Right now I'm all about dance parties with my 10 month old son and my husband. We have 24k Magic by Bruno Mars, Boogie Woogie Bugle Boy by The Andrews Sisters and Zombie by the icon, Fela Kuti on rotation. Oh, and a random smattering of the Hot Diggity Dog song from the Mickey Mouse Clubhouse intertwined.
Your go-to healthy snack.
Hummus and any veggie. Love it.
Your favorite comfort food.
Any type of pasta.
Your favorite city, and quick tips for traveling to that city.
Toronto, ON

. Love traveling there via Porter Airlines. If you can, book your flight with them and you'll enjoy a ferry ride from airport terminal, right into downtown TO.
What is the first thing you do when you get home from a trip?
Run to shower and get clean so I can kiss and hold my son and snuggle with my husband. When I step into our home it is all about the and us.
Who are your favorite women heroes?
I believe in everyday women as heroes. At the top of my list is my mother. She is simply amazing. Two-time cancer survivor, Sunday School teacher and the most active retiree I know.
A piece of interesting news you read recently.
Too much to unpack here, but I will say I've been more mindful and conscious of the news I allow, or don't allow in my space. I'm in a phase where I'm trying to disconnect more to have less "noise" in my space, so I can be about what I'm put on this earth to do.
I don't have a favorite brand, but I LIVE for any moisturizing lipstick in shades of coral or muted pink.
Favorite quote from a movie.
"Make the money. Don't let the money make you." – Diamond from

The Player's Club

. This is drop-the-mic level wisdom for life.