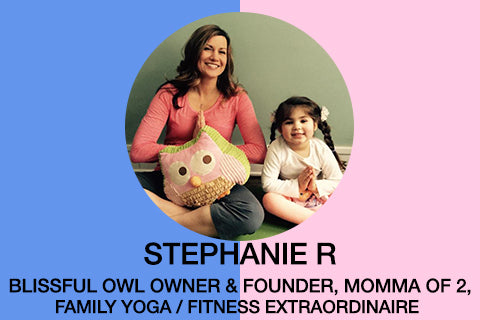 Stephanie R
What Makes YOU Feel Powerful? 
When the children I teach each week surprise me by demonstrating a calming breath or a yoga pose or remembering a movement that we created from the prior week. What makes me feel even more powerful is when one of their parents tells me their child has shared their joy and knowledge from class at home with the rest of the family. That is how I know I made a difference in the life of that child. I also feel quite powerful when I can creative some sense of homeostasis and balance from chaos....its like Jean Grey and the power of the Phoenix.
Sunny days, new beginnings, waterfalls, children playing and hearing my family members voices.
What advice would you give to your 15 year old self?
Stand up tall, be proud, be yourself, be kind to others but also be kind to yourself, help others find their voice and stand up for friends in need.
Favorite way to break a sweat.
These days anything that gets me moving. A dance class with rockin' music. A bike ride with the kids. A barre class digging deep into my glutes. Chasing after butterflies at the beach. Gardening in the yard.
What's your favorite Sports Bra style and why?
Any kind that crosses in the back and supports in the front. No saggy saggy for me please!
Your go-to healthy snack.
Grapes and cashews - a little bit of sweet and a little bit of salty.
Your favorite comfort food.
PIZZA!! Anytime of day, hot or cold.
What are your gym bag essentials?
My planner (yes, I still use and LOVE my hard copy planner), hair ties, extra sticky socks, extra phone charger, MAC or Burt's Bee lip gloss, my "Drink your effing water!" water bottle and usually some extra kids yoga props or toys for my kids to play with while in child care at the studio when I am teaching.
A piece of interesting news you read recently.
Childhood obesity in on the decline! 43% in 2-5 year olds in the past decade! Yes!! Small win but big hopes for the future.
Racer back or Open back tank tops?